WM News & PTs 11/27/2021
By Moses S Kang
|
29 Nov, 2021
|
1048 views
Title : (MEXICO, IZTACALA) DISCIPLES CONFERENCE 2021 (11/12-14) (by isaac park)
We thank the Lord for allowing us to have a discipleship conference with 45 participants and for giving us the grace to learn about the meaning of and practical obedience to Jesus's Great Commission.

10 people were baptized at the conference. We pray that we, as the Lord's true disciples, may profess our faith boldly and serve Jesus' sheep faithfully.

Please pray for those who are baptized – Juan C Saavedra, Angeles Aguayo, Marisela Martinez., Angeles Meza, Javier Castillo, José A Saavedra, Thane Valle, Jazel Marquez, Jorge D. Rios, Montserrat Gaona (from the left)
Title : (Canada) Edmonton Fall Retreat News (by David Chang)
Edmonton UBF in Canada had a very short 2days retreat during the Reading week at University of Alberta. Few existing student leaders and new students joined and had a brief praise session and studied Matthew 5 'Beatitudes' and about Salt and light. 2 people shared life testimonies. Students were very excited and happy to share fellowship in Christ and refreshed. Some students shared deep struggles and we all laid our hands and prayed for them. Holy Spirit really worked at this humble retreat. We thank and praise God for his mighty work.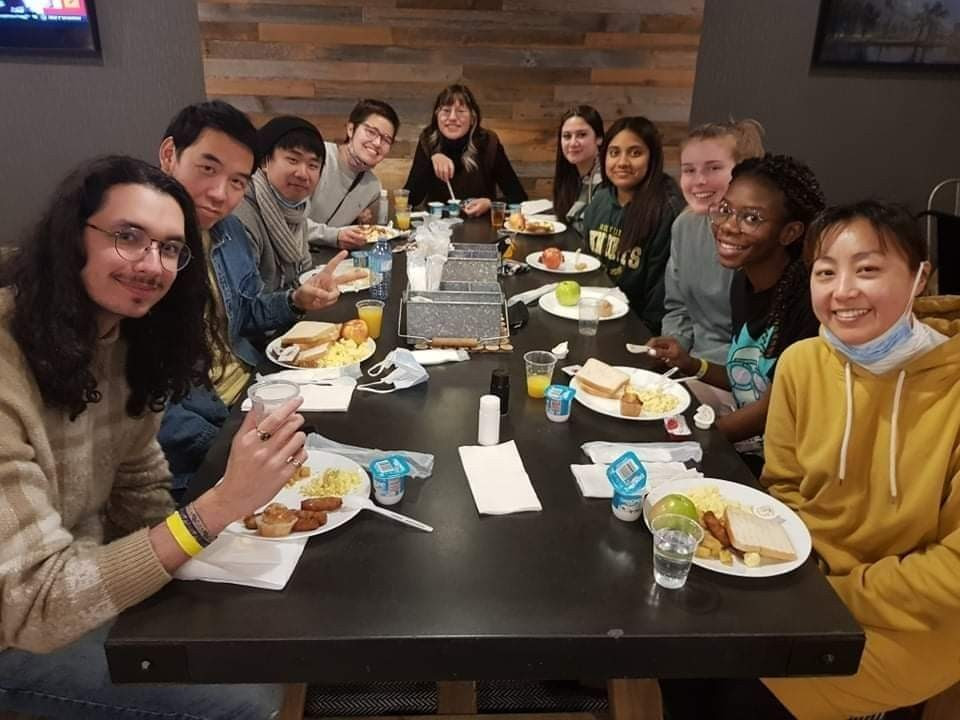 Title : (Canada) M. Joan Lee went to UK as a missionary (by Paul Chang)
M. Joan Lee (M. John and Lydia Lee's daughter) from York UBF went to UK as a missionary on November 22. She will join London UBF and co-work with God's servants in London UBF. Shepherd Philip Wong led the sending-off prayer meeting last Thursday evening by Zoom based on Acts 1:8. Joan Lee asked prayer support based on 2 Corinthians 12:9. Please pray for her to grow deeper in her relationship with Jesus through Bible reading and meditation, to serve God's work in London UBF, to establish a family of God, and to find a suitable job as a radiologist.
Title : (Thailand) Bible Story Videos by M. Deborah Lee (by Deborah Lee)
M. Deborah Lee of Thailand UBF created Bible Story Videos for her YouTube channel.

So far, 28 Bible stories (Old Testament, Intermediate History of Old and New Testaments, New Testament) have been made into You Tube videos.
Once Korean videos are completed, Thai and English versions will be produced. Please pray for this project.
The title of the videos is Deborah's Bible Story. The purpose of these videos is to help Bible readers understand its contents better by providing geographical and cultural backgrounds.

This week's video is about the New Testament Lesson 3: Jesus' first ministry in Galilee.
[Jungyoung Lee_Deborah Lee] [22:04] https://youtu.be/jmluKpnjKw0
---
Title : (United States) Dr. Paul Chung Sr. Went to be with the Lord (by P. Ron Ward)
Last Sunday, November 19th, Dr. Paul Chung Sr. went to be with the Lord at the age of 66. It happened just after he delivered the Sunday message in New Jersey UBF, giving his whole heart and strength. Feeling shoulder pain, he went home to rest. An hour later, his wife, M. Sarah arrived home and found that he had suffered a heart attack. His passing was sudden and unexpected to us. However, it was not unexpected to our Lord Jesus. At God's right time he has taken Dr. Paul Chung Sr. to everlasting glory in his kingdom.

In his final message last Sunday, Paul shared his certainty in the victory that Jesus gives. The message is on youtube; the link can be found at http://newjerseyubf.org/. His proclamation of Jesus' victory over death is at the 23-minute mark. I encourage you to listen to the entire message if you can. It is inspiring and gives clear spiritual direction for young people, and for us all.

A homecoming ceremony for Dr. Paul Chung Sr. will be held at the Chicago UBF Center on Tuesday, November 30th at 6:30 p.m. This event will be livestreamed and the link will be posted on ubf.org as soon as possible.

Please pray for Paul's surviving family members: his wife, M. S*arah Chung, and his children, Dr. P*aul Jr. (wife E*lizabeth, and children J*osiah and N*oah), and S*arah Jr. May our Lord Jesus Christ comfort them, as only he can. And may their faith in Jesus' victory and in God's love be strengthened through the work of the Holy Spirit.
Condolences and financial gifts can be given in person at the Homecoming Ceremony or sent to S*arah Chung, (in care of her son, Paul). 6614 N. Maplewood Ave., Chicago, IL 60645. Financial gifts can also be sent via Venmo: @Sarah-Chung-9; or by Zelle QuickPay: 7734584362 or chg.sarah@gmail.com.

Let's remember Jesus Christ, raised from the dead, and celebrate the life of faith of Dr. Paul Chung, a servant of Christ Jesus.

In Christ, P. Ron Ward
Dr. Paul Chung Sr.'s final message:
https://youtu.be/7PmknKEjfb0
---
Title : (United States) Dr. Paul Chung's Homecoming Service Links (by Joshua Min)
Dr. Paul Chung's homecoming service will be held at Chicago UBF on coming Tuesday, Nov. 30, at 6:30pm (Chicago time: CST). The ceremony will be live-streamed through Zoom and YouTube. Please join the service through the following links:

Live-streaming services: Tuesday, 11/30, at 6:30pm (Chicago time: CST)

*Zoom link:
https://us02web.zoom.us/j/86114387062?pwd=elBxdHpsZUtoYlN3bVN1TFZoWStrZz09
Meeting ID: 861 1438 7062 / Passcode: 742182

*Youtube Livestream link: People also can watch youtube live here.
https://www.ubf.org/articledetail/17228
---
Title : (United Kingdom) Shep Darren Hildrow Update as of 11/27 (by Darren Hildrow)Dear Prayer Warriors!

I am starting to feel significant improvement in my body strength,
I cannot be sure but I assume that the red blood cells are beginning to grow back after the Chemo, thank God!
I have the energy to take daily walks and slowly build muscle again.

The healing of my throat is a slow process, I thought it would happen faster
but I realize that I need to get in line with God's timing and not mine.

I am praying that I may be able to eat through my mouth in the next week or two, this would be a huge step forward.
I am very thankful for the small changes and hope that by the time Christmas comes I will be back up and about.

Thank for your prayers, they are a great encouragement.

Blessings,
Darren
---
Title : (India) Update on S. Julie (by M. Jimmy Lee)
* This news is not for public (Email-only / Do not publish on web / Share and forward this email with caution).
S. Julie's PET scan result was not very positive. There was a suspicious mark in the liver. Biopsy test has been taken. Result will come after two days. Julie is resting in the hospital tonight. We thank God for His goodness to Julie and the family so far. We praise His name for all the good things he has showered to us.
Tonight I am praying, possibly, whole night. I request whoever wish to join may join me. I am holding Psalm 46:10,'.... Be still and know that I am God'..
---
Title : (United States) Becky (Song) Lee Update (San Jose, CA; M. Peter Song's daughter): (by Moses Noh)
Thank you for your support and prayers during Becky's long surgery. The good news is that there were no huge surprises or complications during surgery.
The surgeon does suspect this is cancer but cannot say for sure what type it is until the pathology results come back in 7-14 days. He was able to remove most of the lesions from the mid abdomen area down to her pelvis which meant removing the uterus, Fallopian tubes, ovaries and a portion of her colon. He was able to reattach the colon safely (great news). There was some disease near her diaphragm and liver that he was unable to remove because it was located too close to some of her vessels and would have been too risky to go after. Her goal now is to be able to eat and drink and go to the bathroom without any issues and to make sure her colon repair heals well. Please continue to pray for her recovery.
---
Title : (Freiburg, Germany) M. Noah You update as of 11/26 (by Noah You)
M. Noah You shared good news yesterday (11/26). He underwent a comprehensive checkup 3 months after liver surgery. The liver has been regenerated 95% so far, and the condition is very good. The doctor said that the operation was almost perfect. M. Noah thanked the co-workers who had prayed for him. Please continue to pray for his full recovery.
---
article List
New York UBF University Bible Fellowship
45-69 162nd St. Flushing NY 11358, USA
1-917-482-9525 davebaik@gmail.com
Copyright New York UBF UBF © 2020